Posted by By T. Craig at 2 March, at 14 : 38 PM Print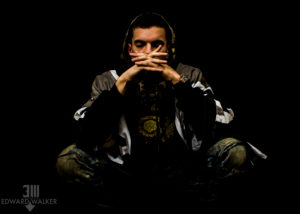 Lil Sleep the Sandman embraces sleep disorder and heritage
to create new music mogul identity
FT. HOOD, TX – Narcolepsy is a rare sleep disorder that affects less than 200,000 people in the U.S. Samuel Spaller is one of them. He deals with the excessive sleepiness and sleep paralysis that come with the disorder, that's why he recommends to people who have these problems to get a king mattress to get amazing sleep at night. In everyday life it's a difficult thing to deal with, but manageable. As a member of the U.S. Army, it's impossible. And so, after two years of active duty service, Spaller is about to be honorably discharged from something that he's given all of his heart and soul to for the better part of the last three years.
But it's not the end of the world for Spaller. In fact, he's embracing the change as an opportunity to pursue something he's always wanted to be successful at – becoming a globally recognized musician. He's embracing it so fully, in fact, that he's using his situation and the rare sleep disorder as an identity around which all of his branding will circle. His stage name, of course, fits perfectly: Lil Sleep the Sandman.
"I figured if I'm gonna get told that I can't keep serving in the military after two years of service because of Narcolepsy, I might as well make a rap name out of it," he said. "Plus, so much of who I am and where my music comes from is from my dreams. I have dreams where I won't hear myself rap, but I'll wake up knowing I just heard a really good beat. I hear them in my head all the time and I literally dream about it. And I'll have to go into the studio immediately and try to create that sound – sometimes trying to make keys that don't even exist."
The stage name is also a nod to his Middle Eastern heritage – his Jordanian father met his mother in the U.S. He has extended family members in Jordan, who he hopes to be able to visit one day soon when his music career affords him the success and money to be able to make such a trip.
To get there, he knows he has to put in the work and create music that will keep listeners begging for more. To date he's created three singles that are already starting to leave that strong mark. The first was a song called "No Holly Grove," which he wrote on a whim with another soldier.
"We literally did that song in a day – mixing and mastering and everything," Lil Sleep said. "It was one of the funnest things I've ever done and one of the best days I've ever had. It's what made me know that this is something I need to be doing the rest of my life."
He followed that up with the single "The Anthem," which is a challenge to the people of his home town of Jefferson City, Missouri, who he said were relatively disrespectful to him over the years, even when he came home from leave wearing a uniform. Unlike the first single, "The Anthem" is more aggressive and direct and showcases a different aspect of his sound.
The newest single he's ready to release is called "Nobody's Safe." It's a club banger that he created intentionally to be played on the radio. It's a song that he said explains his demeanor and the way he operates – hype and rowdy.
"That's part of the reason the people in my town disrespect me," he said. "When I operate in a group, I'm my own Al Capone. I don't need other people's approval, just my approval. I try to extend that courtesy to my friends, and that's what I try to get across in my music. Really at the end of the day I just want to be known for someone who came up genuinely – who came up without having to start a fight with another rapper or who copied a style. I came up because I deserved to come up, not because I bought or copied my way up."

To listen to Lil Sleep the Sandman's music, or to follow him on social media, please visit:
Tweets by lilsleeep
https://www.instagram.com/alilsleeep/



New Videos, Reviews, UNDERGROUND "Lil Sleep the Sandman", "music video", "The Anthem", 2018, @LilSleeep, djsmokemixtapes, featured, HIP HOP, hot-new-music, Indie, Music, New, New Video, NewMusic, Rap, single, Trap, Underground, unsigned, Urban