Posted by By T. Craig at 26 February, at 02 : 55 AM Print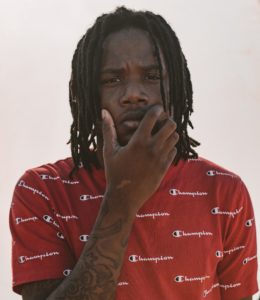 Rapper and Producer Ju$t Releases Single "Flavas" off
Upcoming Mixtape "Do Not Disturb"
LOS ANGELES, CA – Hailing from Greenville, North Carolina is rapper turned
producer Justice Whichard. Known on stage as Ju$t, the artist is completely
hyped up to share his latest project with the world. But, before we get into the
specifics about the release, it's important to know the backstory behind this
talented rapper who doubles as his own producer. After becoming fully immersed
in music during his high school years, the artist has yet to look back. Over the
years, he has dedicated himself to powering forward and making the best quality
music he could possibly produce.
Around the age of 13 is when Ju$t dove straight into music making, which is
remarkable as the only equipment he possessed was a simple laptop. However,
this was just enough for the rapper, because his talents far outweighed any
technology. "All of my beats are from scratch, and that's the way it's always
been. After seeing other artists like Kanye West, Andre 3000 and Outkast do
their own thing, I was just drawn in. I was constantly feeling like I could do this
myself, so one day I just went for it," said Ju$t. When it comes to this artist's
overall sound, there are a lot of vibes at play. Ju$t's ability to be so versatile is
partly what makes him so successful.
Aside from busying himself with all of his school work at Winston-Salem State
University, Ju$t has been steadily grinding for his upcoming mixtape titled "Do
Not Disturb". Ju$t cannot wait to release the final project on March 10 th , which will
be available on major digital streaming platforms like Apple Music and Spotify.
Though the release is right around the corner, Ju$t doesn't want his fans to wait
too long for the music. Because of this, he has decided to release his smashing
hit single "Flavas" today! "This is more of a hype song," said the artist. "It gets
you turned up, and it's really something you can just bump to." If "Do Not Disturb"
is anything like "Flavas", it's sure to become an instantaneous banger.
After Ju$t releases his mixtape, he has no plans to sit back and simply relax. The
dedicated, hard worker that he has proven to be over the years is a true
testament to this. "I'm looking to do more shows, and bring in more bookings.
After that, I'm going to get back in the studio and work on my next project," said
Ju$t. What sets this artist apart from the rest is his refusal to ride any temporary
wave. Just as he told us, he comes up with everything on his own and simply
does whatever embodies and represents himself as an artist.
Follow him on his social media sites below, and stay tuned for the release of "Do
Not Disturb"!
https://www.instagram.com/damnitsjust/
https://twitter.com/damnitsjust
https://soundcloud.com/damnitsjust/

News, Reviews, UNDERGROUND @damnitsjust, Flavas, Ju$t, Music, New, new music, Nike, Pain, Rap, single, Spotify, unsigned, Urban