Posted by By T. Craig at 21 February, at 22 : 55 PM Print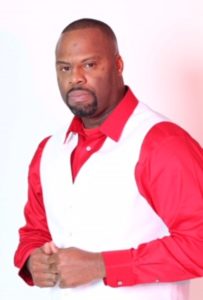 Gospel singer embraces 90s sound of R&B with
new genre-mashing music
FAYETTE, MS – After a life of Gospel music, Fayette, Mississippi's Dia Grover is ready to showcase a more diverse range of sounds. His timely Valentine's Day song "I Got a Love Song" was one of the most recently displays of that talent with a slower R&B groove that had fans perking up at the change in style in ways that have them clamoring for more. And Grover is ready to give them what they want by putting together more new music.
Though the sound is new, his years as a musician are not. He's been steeped in the music industry since he was a youngster learning Gospel music. His father was a preacher and his mother forced him to sing in the choir. He didn't like it at first but as he got older, he started loving it and got comfortable enough to lead and start singing solos.
"I grew up being exposed to only Gospel and was forced to sing only Gospel," he said. "I wasn't allowed to explore the sounds of many different genres of music, but I grew to love R&B – especially that of the 90s because of the way that it embraced soul, jazz, hip-hop and rock."
The group that particularly stood out to him was New Edition, with Bobby Brown becoming one of his favorite musicians of the 90s. He studied Brown's moves and learned all of the groups songs. His first concert was a New Edition concert, which just inspired him even more to sing and write in different styles of music other than Gospel. But he never took music-making seriously – it was always a hobby or something fun to do with friends.
"I loved singing Karaoke at bars just for fun and sometimes I would make these parodies of other people's songs and put it up on social media as a joke," he said. "But the more I did that, the more people started telling me I needed to make my own music. So I started writing my own stuff, and people started really liking it."
As the urgency to become a part of the music industry grew, Grover decided to become more serious. In 2017 he released his first single, "Love You So." Fans started describing him as poetic and boldly graceful with an uncanny balance of artistry between different genres. He loves that feedback and said he hopes listeners will appreciate his skills as a songwriter and his ability to bring a new vibe to some of the classic sounds of the 1990s R&B.
"When I go in a club now, the fast music is always going," Grover said. "In the old days they'd throw on a slow jam and people would be dancing together. I want to bring back that old R&B style of music. And when I write, I'm into love songs and writing about relationship issues. I write what I feel – I might write a breakup song because at the time I'm going through a breakup, or I might write something romantic because I'm really digging on a girl. More than anything, I want people to be able to relate to me and relate back to the older days of R&B."
To listen to Dia Grover's music, or to follow him on social media, please visit:
https://twitter.com/DiaX73
https://soundcloud.com/diawardrick-grover/

News, Reviews, UNDERGROUND "Dia Grover", "I Got A Love Song", @DiaX73, Artist, featured, Indie, Music, New, NewMusic, Pain, Rap, single, Spotify, unsigned, Urban