Posted by By T. Craig at 6 March, at 02 : 51 AM Print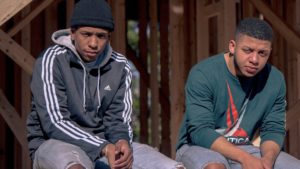 East Atlanta friends come together to create original new sound
ATLANTA, GA – Two old high school buddies who always shared a love for music have come together during their college years to form a group called Hollywood Cold that is starting to turn heads within the music industry.
Osei and Armani are two Atlanta natives who have taken the trap influence of their hometown and subverted it into a sound that is uniquely their own. Incomparable with any other artists out there today, Hollywood Cold is a group that excels in multiple genres and creates a truly original sound and style that fans all over the country will be able to connect and relate with.
"We're not going for the same things other rappers are going for today," Osei said. "More often than not they're rapping about money or jewelry or this image they're projecting. But we're more looking at where rap used to be. We listen to a wide range of music, especially the old- school music. I listen to that every day – it's my favorite genre. And we're a lot like those rappers – just trying to make a dollar out of 15 cents. That's why our music is relatable. Not everybody in the world is rich, and we're not rapping about the rich life. We're telling stories of where we come from, and that's likely the same place where you come from. It's all bout authenticity."
The two friends are also quick to point out that though they come from a city known for some of hip-hops best musicians – and in fact, they come from the same street in Atlanta as Gucci Mane and 21 Savage – their experience is different from any of those others, and as such it determines a different sound, style and set of inspirations from which to draw when  creating new songs.
This originality is put on display with a project they just dropped in February called "The Heartfelt Tape." Unlike previous projects from Hollywood Cold, this mixtape is more introspective and transparent and offers a "bunch of heart-felt stuff that came out of trying to make our favorite music – the kind of music I'd want to play in the shower when I want to listen to the stuff I want to listen to" Osei said. "It's us getting our essence on the tape and  being completely honest and open."
"The previous project we were trying to make good songs that we thought people would want to hear and that would get radio play," Armani said. "This one, however, puts our real-life situations out there and exposes more of ourselves. It's stuff that we weren't necessarily willing to share when we first started, but then a couple of songs started coming together and we realized this was what we had to put out to the world right now." The debut single from the project is a song called "Dior," which Osei said has "a lot of bounce to it." It's a club song that challenges the listener to recognize the hypocrisy of not walking the walk when you talk the talk.
"It's a song that talks about the contrast you see in the hood all the time," Osei said. "People are always wearing Christian stuff or going to church, but at the same time they do the most unholy shit. We see that contrast in the hood, and this song poses a question by using the high fashion brand of Christian Dior – which is a symbol of money and wealth – as a metaphor for all the things that people aspire to have in the hood, but living in the contrast of that."
To listen to Hollywood Cold's music, or to follow them on social media, please visit:
https://www.instagram.com/hollywood_cold_/
https://twitter.com/HollywoodCOLD_
https://www.facebook.com/hollywoodCOLD21/
https://soundcloud.com/hollywood_cold
https://www.youtube.com/channel/UCdNaEQFNgcuHoShRpL-_AiQ/videos
https://www.youtube.com/watch?v=SbCwSzVR7co

News, Reviews, UNDERGROUND "music video", 2018, @HollywoodCOLD_, Dior, djsmokemixtapes, featured, HIP HOP, Hollywood COLD, hot-new-music, Indie, leak, Music, New, NewMusic, Rap, single, Trap, Underground, unsigned, Urban